We invite you to read excerpts from our guest book.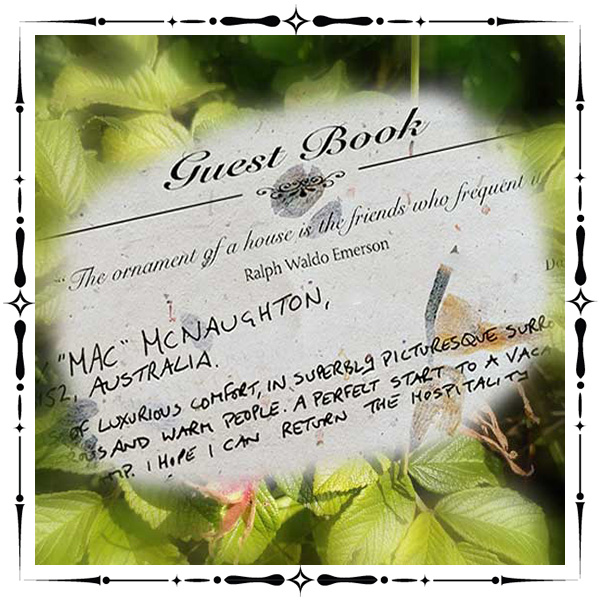 Three days of luxurious comfort in superbly picturesque surroundings in the company of incredibly kind, generous, and warm people. A perfect start to a vacation after two months working at summer camp. I hope I can return the hospitality sometime.
Mark (Mac) McNaughton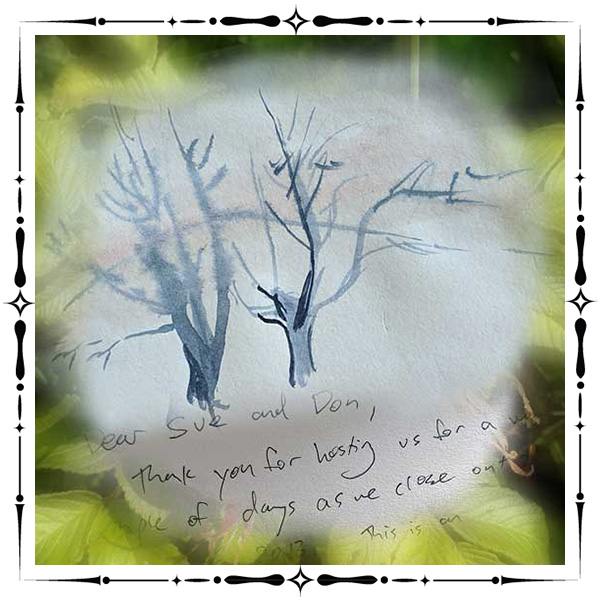 Dear Sue and Don,
Thank you for hosting us for a wonderful couple of days and we close out on 2012 and see in 2013. This is an extraordinary place and you've both got a lovely and generous touch.
Hope to see you again soon.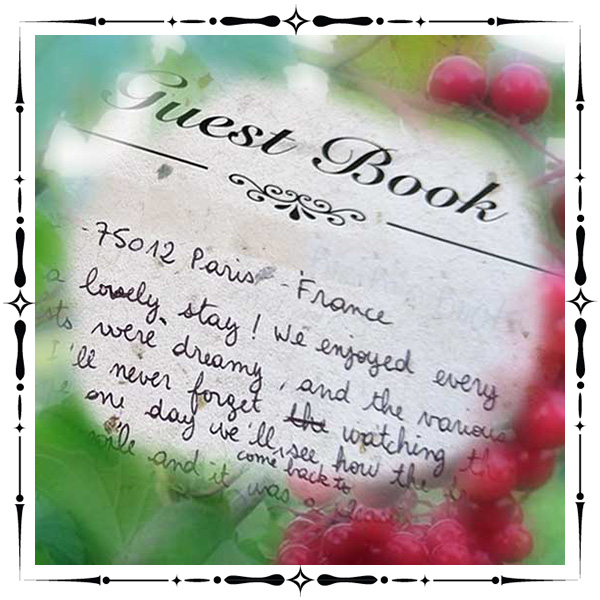 Thank you so much for a lovely stay! We enjoyed every second of it. The breakfasts were dreamy and the various attentions were very nice. I'll never forget watching the orange moon with you. I hope one day we'll come back to see how the fruit maze turns out! You are good people and it was a pleasure meeting you.
Paris, France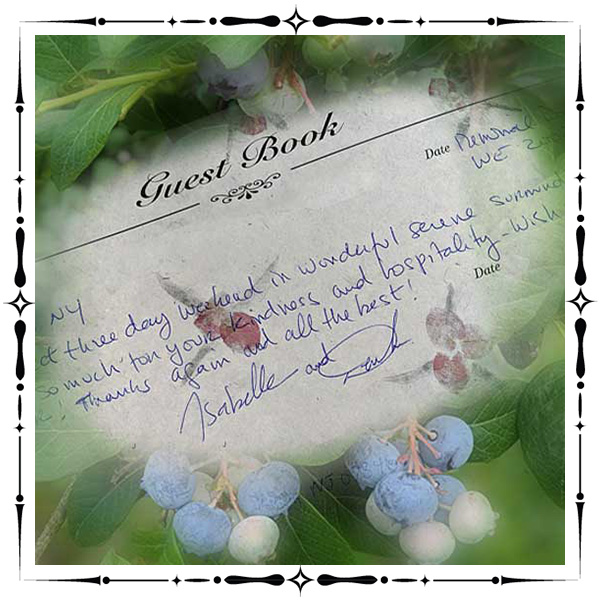 What a perfect three day weekend in wonderful serene surroundings. Thank you for much for your kindness and hospitality – Wish we could stay longer!
Thanks again and all the best.
New York, NY, 2007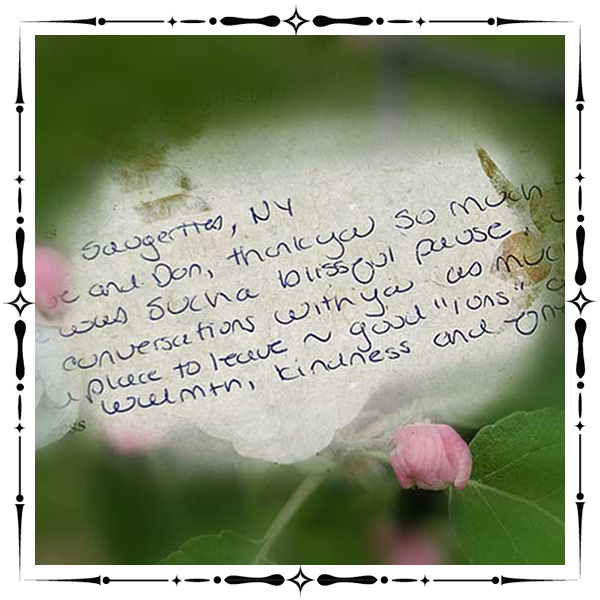 Sue and Don, thank you so much for opening your home to us. Our stay here was such a blissful pase. We loved our lively, open, stimulating conversations with you as much as the land around us. This is a hard place to leave – good "ions" all over the place. Thank you for your warmth, kindness, and friendship (also the food).
Robin and Dan, Saugerties, NY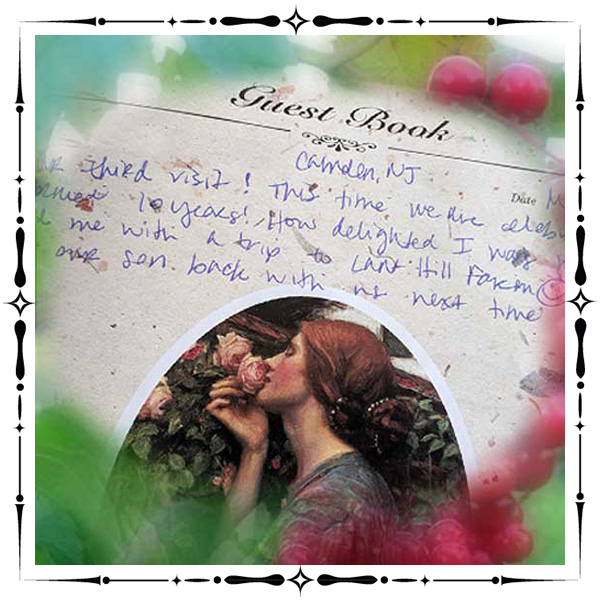 Our third visit! This time we were celebrating being married 10 years. How delighted I was when Dan surprised me with a trip to Lant Hill Farm ;-). We hope to bring our son back with us next time.
Camden, NJ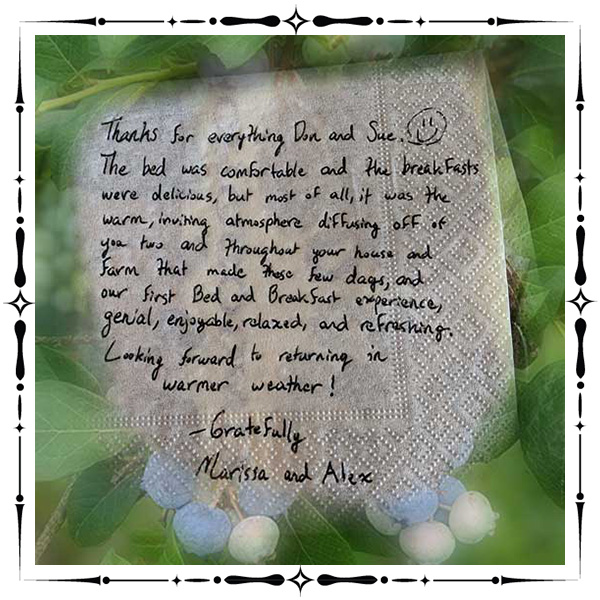 Thanks for everything Don and Sue 😉
The bed was comfortable and the breakfasts were delicious, but most of all it was the warm, inviting atmosphere diffusing off you two and hour house and farm that made these few days and our first bed and breakfast experience genial, enjoyable, relaxed and refreshing. Looking forward to returning in warmer weather!
Gratefully,
Marissa and Alex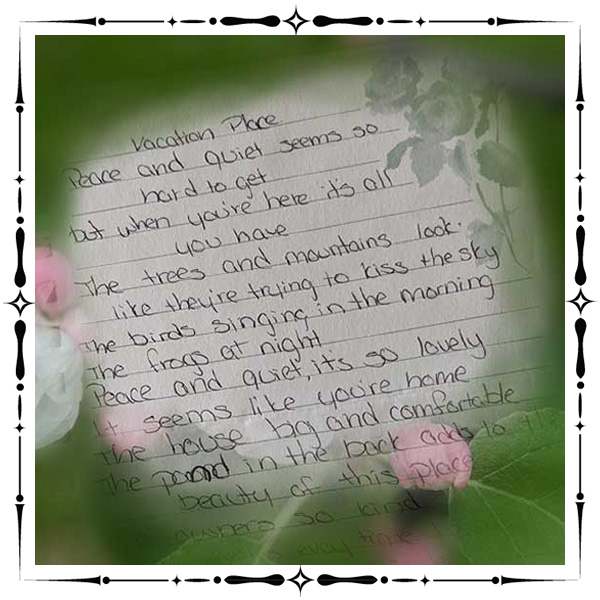 Vacation Place – Jenny Sturges
Peace and quiet seems so
Hard to get
But when you're here it's all
You have.
The trees and mountains look
Like they're trying to kiss the sky.
The birds singing in the morning
The frogs at night.
Peace and quiet, it's so lovely
It seems like you're home
The house big and comfortable
The pond the back adds to the
Beauty of this place
The owners so kind
Their smiles every time i saw them
Made me smile
Their hospitality was great
This is the best vacation place ever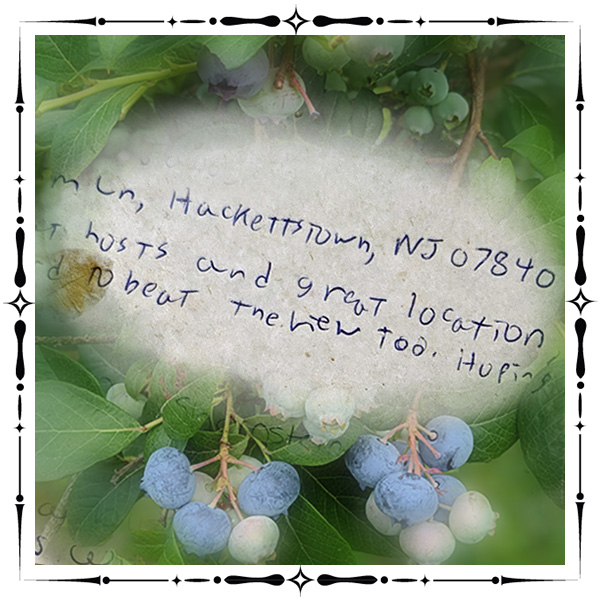 Great hosts and a great location and great breakfasts! Hard to beat the view too. Hoping to return!
NJ, 2007